Happy 11/11/11, celebrity gossip fans!
Today marks the only time in history where this palindrome of a date will come into play. What does it mean? While we stop to honor our fighting men and women - on Veteran's Day, we also pause to reflect on how this number plays a key role in Hollywood. To wit...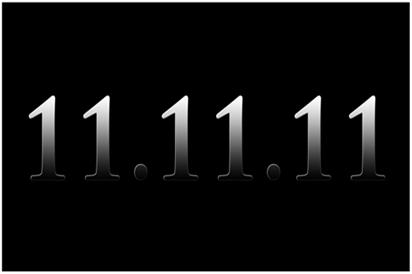 11 years old
: The age of Willow Smith, who took to the stage last night on
The X Factor
.
Ocean's 11
: Awesome movie!
11 seasons of singing
: That's what kicks off in January on
American Idol
.
11/11/10
: One year ago today, a popular day for controversy, highlighted by Kanye West going off on Matt Lauer.
11/11
: The birthdays of Leonardo Dicaprio, Peta Wilson, Calista Flockhart, Demi Moore and Marc Summers.
11 candidates
: For the Republication Presidential nomination... if we include Sarah Palin, Donald Trump and Chris Christie, all of whom were really close to jumping in!
11 days
: More than one-seventh of the duration of Kim Kardashian's marriage to Kris Humphries.
Are we missing any? What does this number signify in the celebrity gossip world to you? Submit any appropriate, number-related items now!