If Jessica Simpson is trying to hide the fact that she's pregnant, she needs to try harder. She showed off what appears to be a very prominent baby bump Sunday.
Reports that Jessica is pregnant with her fiancé Eric Johnson's child have not been commented on by the former singer/actress, despite lingering for weeks now.
But at the airport, she had her jacket open, bump visible for all to see ...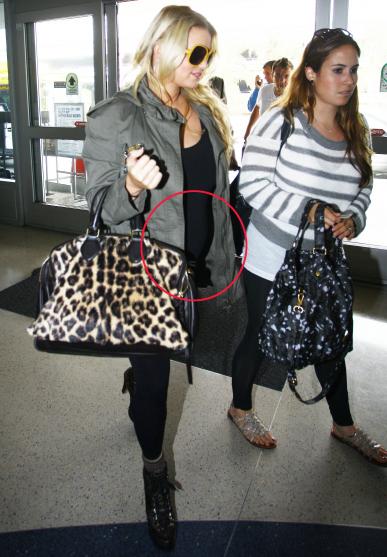 Jessica Simpson, her future offspring and some girl at LAX.
The 30-year-old is planning to make her public baby announcement any day now and is rumored to be shopping an exclusive interview with a $500,000 asking price.
So far, there are no takers.
We can see why, seeing that Jessica Simpson isn't exactly all the rage these days and everyone already knows she's pregnant anyway. We'll give you $50, Jess. Deal?
[Photo: Fame Pictures]