One day, THG might report that Justin Theroux got Jennifer Aniston pregnant and it might actually be true. Or, we may be resigned to mocking take tabloid reports forever.
Either way, she is definitely not with child now, or yearning to be.
"There's no desperation," Aniston tells the newest issue of Elle.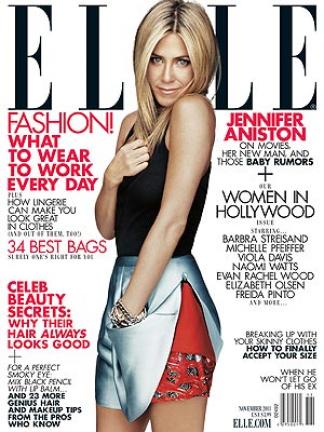 "If it's meant to be, it's meant to be. I'm at peace with whatever the plan is. But will you hate me if I say I don't want to talk about my relationship?"
While the actress remains mum about Justin Theroux and whether the two are getting married, she did reveal a hot-tempered run-in she had on set.
"I threw a chair at a director," the 42-year-old admitted.
"It wasn't my proudest moment. He was treating a script supervisor horribly ... When the director walked in, I threw a chair at him. I missed, of course."
"I was like, 'You can't speak to people like that.' I can't tolerate it."
Wow. We wouldn't want to see her go ballistic on Brad Pitt.