Is Jessica Simpson pregnant? We'd say almost definitely.
The most recent speculation about the occupancy of the singer's womb began after In Touch stated matter-of-factly that she was expecting. But here's the weird part:
She hasn't confirmed or denied it. She's been radio silent.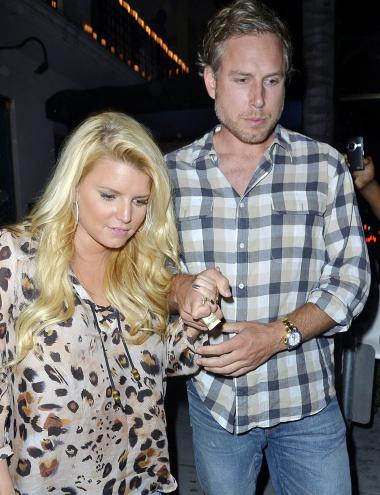 Then, at a recent store appearance at a San Francisco Macy's, Simpson held a fan's baby. Yes, you read that correctly people. She cradled a real live tiny human being.
In her arms. Her arms.
Of course, she might have just felt like doing so. But you have to wonder if this was an attempt at "hinting at" or "fueling" the pregnancy rumors she must know exist.
Jess was also recently photographed wearing a baggy sweatshirt and huge ass leopard print cover-up of late. All of this means ... nothing, conclusively. However ...
She's holding out for a photo spread very soon. Bank on it.
[Photo: Fame Pictures]