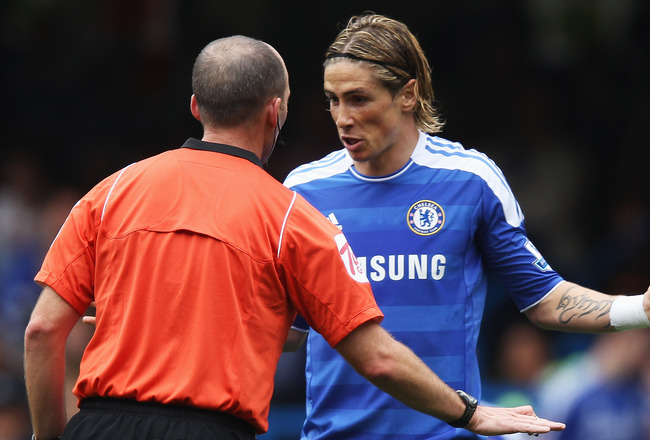 Another fun and exciting weekend in the English Premier League has passed. Manchester United and Manchester City remain at the top of the table after six games (in some cases five), and no team has a 100 percent record any longer.
Fernando Torres continues to go back and forth with his play, though now he's at least found a scoring touch.
Top scorer Wayne Rooney won't get the chance to add to his tally for a few weeks as he is out with a hamstring injury, and as expected, Sir Alex Ferguson had a well crafted excuse to explain his side's draw at Stoke, their first dropped points of the season.
Let's look back at the weekend that was in the English Premier League.
Newcastle Keep Winning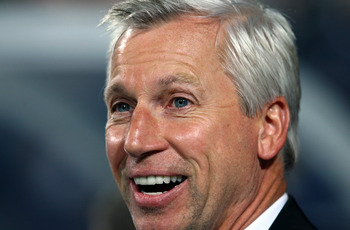 When Newcastle let captain Kevin Nolan and midfielder Joey Barton leave over the summer and only brought in Demba Ba to replace long-gone striker Andy Carroll, wasn't everyone thinking the Magpies were headed for a relegation fight?
Apparently not.
Despite all the odds, it seems Alan Pardew and Newcastle have achieved addition by subtraction. They've lost some keys players in the last several months and haven't done a whole lot to replace them, yet they currently sit fourth in the table on 13 points.
And they've yet to lose a game. Granted, they haven't faced the toughest competition as of yet, but they also didn't seem to have a whole lot going for them after the opening weekend's 0-0 borefest with Arsenal.
If Mike Ashley is still the man we know he is, Pardew can probably expect to be out of a job come December.
Fernando Torres Is the Most Entertaining Man in World Football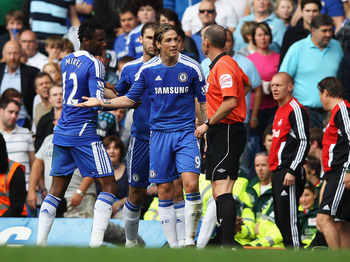 Fernando Torres' first half-season at Chelsea was extremely dull, including his one and only goal which came in the pouring rain, meaning the ball stopped right in front of the goal for him to hit rather easily.
His second season however, has been anything but dull.
Torres scored his second Chelsea goal against Manchester United last weekend and capped off his impressive performance with a stunning miss from five yards out in front of a completely empty net.
This weekend, he scored again (he's on a roll!), another well-taken goal, but then proceeded to shoot himself in the foot by getting sent off.
On an absolutely pointless, absurd tackle no less.
What could've been going through the centre-forward's mind that he thought he needed to lunge, two-footed in on Mark Gower at the touchline, in the middle of the pitch when absolutely no danger could come from the situation?
Now, El Nino will miss three games, and if you're of the party that thinks the Spaniard has turned a corner, that could be a huge blow to his confidence. If you're on the other side, that's just three fewer games for him to spurn good goal-scoring opportunities.
Fernando Torres may or may not provide £50 million worth of goals or trophies for Chelsea, but he's certainly provided that much entertainment for everyone else.
Arsenal Still Have Injury Problems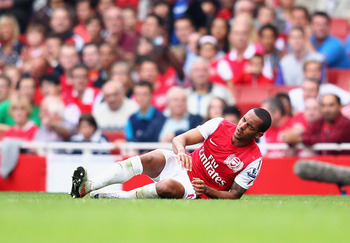 Theo Walcott pulling up short toward the end of Arsenal's 3-0 win over Bolton Saturday probably caused many Gunners fans to hold their breath.
You can exhale now; it looked worse than it is, apparently.
But Jack Wilshere will now be out until December after it was announced he will need ankle surgery. Thomas Vermaelen is still out for a few more weeks, and new signing Yossi Benayoun is also facing a spell out.
Arsenal fans are just praying both Mikel Arteta and Robin van Persie have gotten over their persistent injury problems.
Despite making a splash in the transfer market this year (for Arsene Wenger that is), Arsenal can ill-afford to lose too many first-team players.
Peter Crouch Can't Use His Feet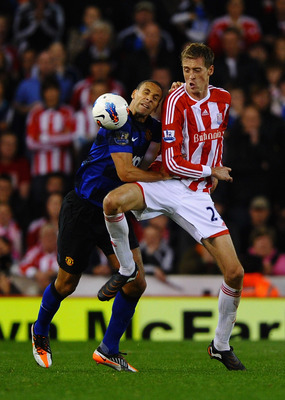 Peter Crouch was certainly causing trouble for Manchester United centre-backs Rio Ferdinand and Phil Jones Saturday against Stoke City. Too much trouble if you're asking Alex Ferguson that is.
Crouch headed in Stoke's equalizer which eventually secured the club's first ever Premier League points against the Red Devils. Trouble is, it could've been a full three points if Crouchie knew how to use his feet.
The 6'7", entirely too lanky to be any sort of athlete, English striker spurned two chances right in front of the goal when he could not control the ball or at least hit it with any sort of power.
For some reason, Stoke continued aiming balls at the big man's feet even though it has been shown he wins almost every header, even if he doesn't do anything useful with most of them.
Will Wayne Rooney's Absence Slow Manchester United?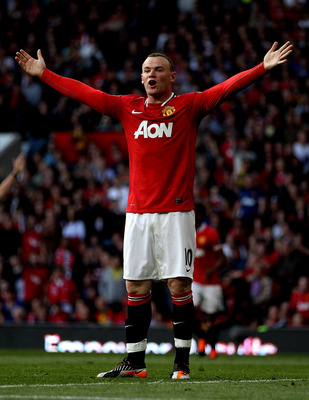 Wayne Rooney was a late omission from the Manchester United side, which dropped its first points of the season at Stoke on Saturday, because of a hamstring injury, and it will likely keep him out for about four weeks.
Javier Hernandez also left the game early for the second week in a row after a crunching collision.
Well poor Manchester United. They only have Danny Welbeck and Dimitar Berbatov (and Michael Owen) waiting in the wings.
They should be fine without Rooney, but with the insane form he's been in to start the season, it's still a big miss. Will he come back on fire like he has been, or will this be a niggling injury that slows him down a bit?
Whatever the case, it's certainly a small blow to the forward's season (and England's Euro 2012 campaign), but if any team can afford it, it's Manchester United.