The most annoying celebrity on the planet is late, folks. For her next red carpet appearance? No.
"She was supposed to get her period and didn't," a source close to Kim Kardashian (VERY close to Kim Kardashian, apparently) tells
OK! Weekly
.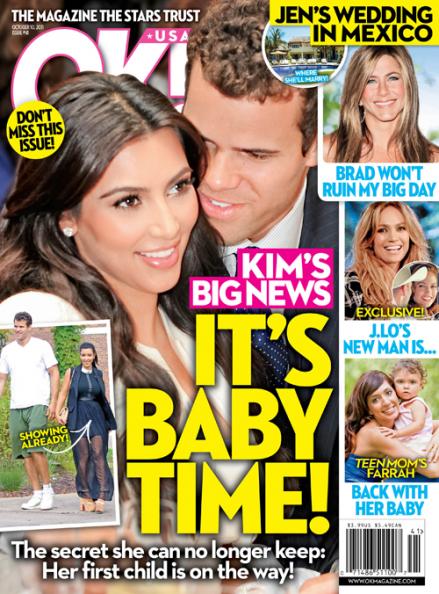 Of course, nowhere on this cover does it actually say Kim is pregnant, just that it's "baby time," a child is "on the way" and that the reality star is "showing already." If Kardashian were actually knocked up, the Internet would have exploded hours ago.
"Kim always thought she'd have several kids by age 30, so in her mind she's behind schedule," an insider
tells the tabloid
. "Kim's been going through all the K names. She even has a baby-name book and looks up the meaning of each one."
Considering the family into which this kid will be born, permit us a suggestion: klusterfuck. Kim, you can call us for the meaning of that one.