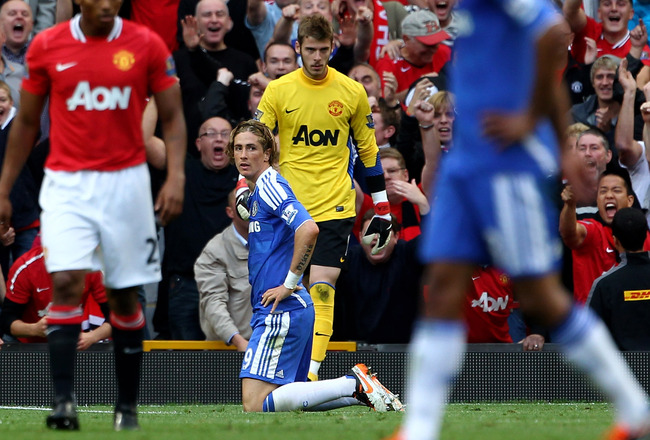 There have been a number of embarrassing misses in world football over the years and if you have time, you could search for some of the most glaring misses.
No one likes to be reminded of his mistakes, but footballers do come under the glare of the media and just as they are highlighted when they score great goals, they also come under scrutiny when they have a bad miss like Torres did in the game against United. However, supporters should watch it in the right spirit and not to mock the footballers or delight in their misery because every player does his best to win for his team.
This is a list of some of the worst misses over the years and if you are interested in more of these videos, you could search them on YouTube.
1. Fernando Torres (Chelsea) vs. Manchester United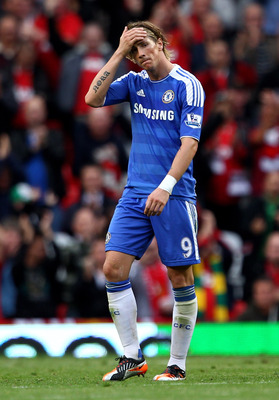 Fernando Torres had gone through a lean patch before the Manchester United game and almost everyone thought that his goal against the Red Devils could inspire him to return to form but his miss from four yards could yet shatter his confidence.
Torres latched onto a through ball from Ramires and managed to get past David De Gea with ease. However, after doing the hard work, he shot wide of the mark and he looked utterly disappointed with that miss.
If the Spaniard can put that miss behind him, then he could recover from his slump, which is very important for the Blues.
2. Ilija Sivonjic (Dinamo Zagreb) vs. Cibalia
Ilija Sivonjic is not a footballer many of us would have known, but this miss is worth remembering for a long time.
The ball was heading towards the goal and it might have been a goal without any interference from Sivonjic. The Croatian wanted to ensure that it was a goal and tried to tap it in; however, he managed to make the perfect goal-line clearance much to the dismay of Dinamo Zagreb, who were trailing by a goal at that time.
3. Ronny Rosenthal (Liverpool) vs. Aston Villa
Ronny Rosenthal did have a decent career having good spells at a number of clubs in his career but this miss against Aston Villa when he was playing for Liverpool is certainly one of the most astonishing misses you will ever see.
Liverpool's goalkeeper's long kick finds Ronny Rosenthal, who has a good first touch to get past the keeper. However, he only managed to hit the crossbar and Liverpool went on to lose the game as well.
4. Diego Forlan (Manchester United) vs. Juventus
Diego Forlan has established himself as one of the best strikers in the last decade and has enjoyed success both for club and country. However, he had his difficult spells as a striker as well and did not have a good spell at Manchester United early in his career after which he had greater success.
This miss against Juventus when he was a Manchester United player would not be one he would like to see but it shows what lack of confidence can do to even very talented players. In this moment, Forlan latches onto an error by the goalkeeper and with no one to beat and with no pressure on him, he cannot hit it on target.
5. Jakub Błaszczykowski (Borrusia Dortmund) vs. Freiburg
Jakub Blaszczykowski has been an important player for German Champions Borussia Dortmund but he would not want to think of this open goal miss.
In this video, he makes a good bursting run and receives a good ball and with the goalkeeper beaten, he only needed to put it at the back of the net. Unfortunately for him, he shot it above the bar. He has put it behind him and would probably never miss this sort of chance again.
6. Yakubu (Nigeria) vs. South Korea
Yakubu is a striker who is talented but is too inconsistent which is why Everton manager David Moyes sold him.
The Nigerian international scored two goals for Blackburn against Arsenal, showing that he can still score goals but this miss against South Korea shows how frustrating he can be. He is provided with a chance that is easier to score than miss but he somehow does not hit the target and Nigeria missed the opportunity to gain three points from this World Cup encounter.
7. Jose Carlos Fernandez (Allianz Lima) vs. Universidad César Vallejo
Most of us would not have seen Jose Carlos Fernandez of Allianz Lima play but it is very probable that he will never again miss that sort of chance in his career.
He was nearly standing on the goal line and any sort of contact would have taken it to the goal. But his indecisiveness allowed the goalkeeper to save the attempt. Fernandez and especially his team mate look frustrated for missing that chance.
8. Freddie Ljunberg (Arsenal) vs. Bolton
Freddie Ljunberg was an important member of the Arsenal team for quite a long time and was popular with the fans who liked his talent and his effort on the pitch.
He scored several important goals for the Gunners but this is one opportunity he should have certainly scored, but he missed the target from four yards out. It is the superb build-up play which creates the opportunity for Ljunberg but he somehow shot above the bar. This shows that even quality players can have these sort of moments on the pitch.
9. Fahad Khalfan (Qatar) vs. Uzbekistan
This is another one of those misses which makes the list because Fahad Khalfan misses the goal in a unique way.
The goalkeeper makes a horrible error but the striker makes a bigger one and instead of just smacking it in with his right foot, he tries to thread it through with the outside of his boot and just managed to hit the post when he should really have scored after that blunder by the goalkeeper.
10. Rocky Baptiste (Harrow Borough) vs. Waltham Abbey
This is one video you will watch again and again and wonder how he could miss that goal.
Rocky Baptiste could have literally walked the ball into the net and yet from a yard out, he decided to strike it against the post. However, he can also score from distance as the video shows and Baptiste scores a superb goal from long range, but he will be remembered in that video for the goal he missed rather than the one he scored.
Other Embarrasing Misses.
There are a number of other good videos on embarrassing misses on YouTube and elsewhere. If interested, you could take a look at some of the compilations.